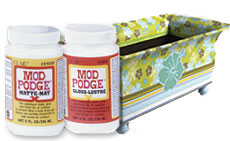 Mod Podge:

Use Mod Podge when you are altering items. For example, covering a chipboard, a frame, a box, anything really. Mod Podge is both an adhesive and the finishing fixative. Brush a very thin coat of Mod Podge on the product you are altering. Then place the paper down, smoothing it out to push the air bubbles out. Once all the paper is adhered, wait a day (honestly, the results are better) and the apply the Mod Podge over the top of your papers to seal the project. Use thin coats once again. Apply several coats of Mod Podge, making sure to let it dry between coats.

Mod Podge original comes in two styles-Matte and Glossy. If you want your project without shine, then chose Matte. If you want a shiny, glossy, glass-like finish, then purchase Glossy.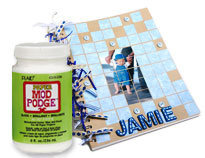 This is the new Mod Podge designed specifically for paper crafting, I have yet to try it, but Plaid claims that it is acid free. The Mod Podge is also supposed to help with the bubbling issue that can happen with the Original formula.