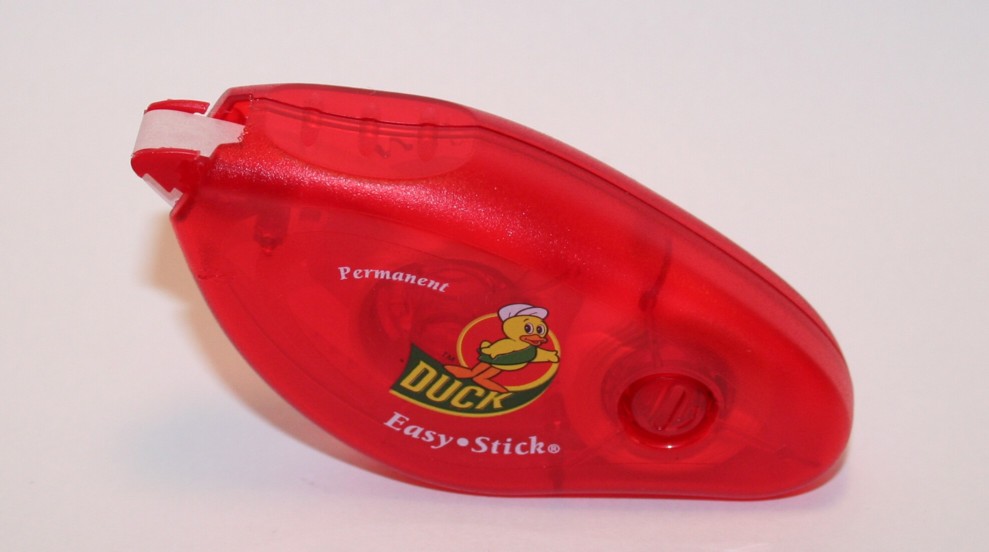 Duck ™ Easy-Stick ®
A double-sided adhesive that is clear. Yes, this is from the company that creates the grey tape, but I received my first dispenser of it at CKU. It does have the CK OK label on it. This adhesive is convenient and works well. It is not as cost effective as other types of adhesive. I like using it when I am cropping away from home.
The package says that it can be used on vellum, but, it doesn't really work. I placed a plain sheet of vellum over a white piece of cardstock and a navy blue piece of cardstock. I ran the adhesive on the four sides and made an X in the middle. It gives off a pink hue on the white paper and it really shows through on the dark.
This adhesive is not for paper crafts such as book making, book covering, attaching items to 3 dimensional objects, and so on.
*Just a little side note…during a recent Two Peas In A Bucket message board visit, people were talking about how they were having difficulty with faulty dispensers. The dispensers were breaking or the tape did not come out properly. If you encounter this, apparently Duck ™'s customer service department is excellent and will replace any damaged dispensers. Here is the number and website to contact them:
1-800-321-0253
www.duckproducts.com
***Just a note*** A company called Pritt is now making this adhesive. If it has not changed names at your Wal Mart or Office Max, it will soon.